Holidays with children
A holiday with children can only be a success when the children themselves can enjoy! Your choice to go to Bali is an excellent choice, for holidays with youngsters and especially with toddlers. The Balinese people are very kind and above all they are very child-friendly. Don't be surprised when entering a restaurant, walking down the beach, or simply doing groceries that immediately Balinese people will approached you to say hello to your toddler. Even taxi drivers try to chat or sing them a song during the ride! . Back to Global Village, you and the children are free to use the swimming pools at all times, as well as the tennis court..
Short trips
Due to the fact that the Isle of Bali is small, short trips are recommended and afterwards back back to the house enabling the little ones to take their nap. , A simple walk along the paddy fields (rice terraces) with your toddler on your back is a guaranteed success as ducks will undoubtedly come your way.
Bird Park
If you are planning a trip to Ubud, remember to visit Bali Bird Park in Singapadu, near Batubulan. From the house this trip will take at about 1 hour drive. To fully admire Bali Bird Park you'll need at least half a day. The park is home to more than 1000 different indigenous birds in two hectares of land. If you aren't already a bird lover, then it is likely that after this visit you certainly will consider to become one! . We advise you to have an early start to make this trip, and have breakfast at Bali Bird Park.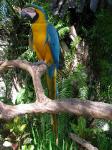 At about 20 minutes from Ubud, you might consider to visit the Desa Taro to pay a visit at Bali Elephant Safari Park can visit. An opportunity to take on this particular occasion to experience the Indian elephant in its natural environment. And ofcourse a Safari ride will complete your day! From our experience we can recommend the following 'worth to visit' places: Bali Barat national park (North Bali), Bali, Butterfly Park (Bali Tabanan), Botanical gardens, Bedugul Reptile Park (the Komodo dragon is also to be found), Monkey forest (near Sangeh, or a smaller area in Ubud). Furthermore, there are places in the North (Lovina Beach) where you are able to make a trip on a glassbottomboat in order to admire beautiful colored fishes and even dolphins. All mentioned activities, each and every one of them, we experienced ourselves therefor we dare to say that it is a success guaranteed trip with even the toddlers! .
Water amusement for children
Done with the beaches, paddy field and shopping malls? Pay a visit to Waterbom in Kuta.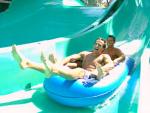 A paradise for all! Exciting slides in an area of 3.8 hectares. Where the children can play while you consider to relax or to pay a visit the Spa or masseuse. Waterbom is open daily from 09: 00 till 18: 00.
The beach
For even more water amusement is, of course, the beach place to be. Bali is known for the beautiful waves, surfers' paradise indeed!. However, beaches well known by surfers are often not safe for the little ones. From our own experience we recommend beaches with less spectacular waves with many shells to find during a walk along the beach. Within 10 minutes drive from the house you can even choose. .
Dinner with your children
Sometimes having dinner in a restaurant with young children is like a real adventure! Out of the blue the taste fried squid and like it a lot but complain about the mayonnaise or the apple juice! Children remain children, where ever you are! . Please be informed that in the house we already made a list of recommended restaurants, with a suitable menu and outstanding service for children.