Are you looking for a fun, but above all, affordable villa in Bali for your holiday or long-term residence? From € 250.00 a week.
The house is also for sale Look at the bottom of this page.
The house situated in resort Global Village in the small village of Taman Mumbul (Nusa Dua, the south of Bali). On the hill located house is only a few minutes from the main road. It is therefor easily accessible, but calmly situated. Our house is 20 minutes from the airport as well as the tourist center of Kuta. Kuta beach is a moving experience for surfers. But a quiet beach for toddlers is only 5 minutes away.
Swimming pool and tennis court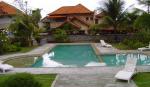 The tenniscourt and both swimming poolsare free. One of the the swimming pools is just in front of the house.
For 6 persons
The house is fully equipped and contains three bedrooms suitable for of 6 people at the utmost. Moreover we also offer full service during your stay.. Towels, and bedding are present so no need to bring it with you. Beachtowels however is something you ought to bring yourselves
.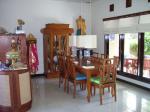 The house has a kitchen including fridge and chilled/hot water dispenser, 3 bedrooms with air conditioning, 2 bathrooms with shower and toilet, the living has a ceiling fan and outside a porch with a view on the clubhouse and swimming pool and at the back a pleasant porch with a lot of privacy. House cleaning is served 2 times a week. There is 24/7 park security.
Trips
In the surrounding area are many things to discover. Beautiful beaches, sawahs, plantations, mountains, temples and pleasant villages and towns are close. It provides excellent possibilities for snorkeling and diving and also a fine golf course is only 10 minutes drive.
Summertime: 28°C degrees
Bali has a delightful climate, , during the day at summertime, the temperature will vary around 28 degrees. Due to the winter, a cool breeze is blowing from Australia. That is why Bali is an ideal place to spend your holidays during winter! Moreover, a doctor is on request and available for home visit. A hospital with Western standards is 15-20 minutes away

Intrested? Push the button Contact above!
The House is als for sale Irp 1,25 miljard
Click here for visiting the house
Contact: http://www.balirealtor.com or email: frank@balirealtor.com

Company Office :
Pertokoan Puri Alit Blok 9 (building next to Plaza Bali)
Ask for Mister Frank van Kessel
Jalan By Pass Ngurah Rai,Tuban, 80361 Kuta, Bali, Indonesia
Tel + 62 361 756246
Fax + 62 361 758330

Europe office :
Raadhuisstr 99
NL 5582 JC Waalre
The Netherlands
Tel +31 40 211 2718
Fax +31 40 221 8665